Skip to main content
Training Tips and Tricks
Online Meeting
Start using online meetings to host, join, and share from your laptop or via webcam
Getting Started
To get started, go to www.freeconferencecall.com and click Get Desktop App on the bottom of the page under Support. Or, log in to your account, click Online Meetings followed by Host Online Meeting. The executable will begin downloading.
How to Host an Online Meeting
Provide participants with the date and time of the meeting. Remember to include your dial-in number, access code, online meeting link and online meeting ID. These credentials can be located on the Account Information page found upon log in.
Launch the FreeConferenceCall.com desktop application from your desktop.
Click Host and log in with your email address and password (first-time users). After you enter your information the first time, check the "remember me" box so your credentials will be saved for next time.
For the audio portion of the online meeting, call the dial-in number and enter the access code followed by the pound sign (#) or click Headset to connect through VoIP.

For virtual meeting best practices, download our free ebook.
How to Screen Share
Click the Play icon on the Meeting Dashboard.

Select the items you want to share.
Click Start Sharing.
Online Meeting Tips
Tip #1: Select Items to Share
To adjust screen sharing after the session has begun, click Select Items to Share. Choose the new screen or window to share and click Apply Changes, Pause Sharing or Stop Sharing. If you have a presentation or training planned, have all the windows you need open so they can easily be selected. Consider minimizing the windows needed to access in order of viewing to keep the presentation organized and the screen neat.

Tip #2: Automatically Share New Items or Not
The default selection on screen sharing is set to automatically share new items. Keep it checked if you expect your meeting to be a fluid exchange of ideas. Or, uncheck the box if you do not want new items to be shared each time you navigate to a different screen.
Tip #3: Show Preview
Once screen sharing is live, select Show Preview to view how your screen will look for participants. The preview window will be in real time and can help avoid sharing any unnecessary items.

Tip #4: Record Your Online Meeting
If you are presenting and would like to reference back to the webinar or share with colleagues who couldn't make it, be sure to take advantage of the recording feature. This can be done by clicking the Record icon on the dashboard.

How to Video Conference
Click Camera on the Meeting Dashboard.

Select the items you want to share.Choose to dial in over the telephone or through VoIP on your computer.

Video conferencing is on once the Camera turns green.
Additional Video Conference Tips
Tip #5: Avoid Visual Snafus
First, keep in mind that a wonky camera angle is not tres chic. It's tres distracting. Stick with keeping your webcam at eye-level. Second, don't forget to double check the background. Make sure everything is clear and free of distractions.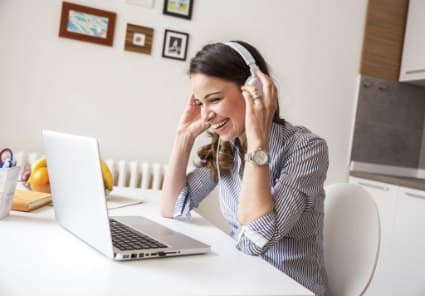 Tip #6: Dress for Success
If you're hosting a presentation, it's best to dress for the occasion. Colors are important visual keys when video conferencing, but remember, both overly fluorescent and extremely dark colors do not translate well. These colors tend to come out blurry and may interfere with image quality. Typically, the colors that show up the best are mid-tone blues and greens.