Audio Information
Online meeting ID:

teamhh
International Dial-in Numbers:
Host Information
Host Info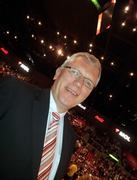 Owner, Team Leader & Coach
Dísz tér 3
H-8900 Zalaegerszeg / Hungary
Tel.: +36 30 597 0957
Team-HH@mail.com
Team HH will provide intelligent solutions to you which will help to connect your existing business to new and unique web solutions which will bring more power to your marketing strategies!

Heiner is involved in online network and marketing strategies since 2004. Join his team and participate in his and his team's experience.