Audio Information
Online meeting ID:

alligatoralumni
International Dial-in Numbers:
Host Information
Host Info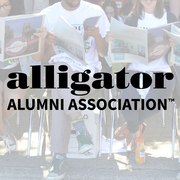 alumni@alligatoralumni.org
In 2001, the Society of Professional Journalists recognized The Alligator with its annual First Amendment Award for the paper's legal battle against the Family Protection Act, a law limiting public access to photos, video, or audio recording of an autopsy unless one can show good cause or get the family's consent. The law was signed by Jeb Bush in response to the death of NASCAR legend Dale Earnhardt at the Daytona 500. The Alligator and other news organizations sued for access, arguing the law as written violated the First Amendment. Ultimately, the U.S. Supreme Court declined to hear an appeal after Florida's highest court ruled the law was constitutional. 
Join former Editors-in-Chief Jason Brown and Trey Csar alongside then-Chief News Editor Matthew Boedy for this webinar looking back at The Alligator's fight against the Family Protection Act and how the student newspaper became the sole news organization to challenge the case to the highest court in the land under legal counsel of Thomas Julin, First Amendment attorney and former editor of The Alligator. 
Learn more about events that inspired the newsroom to challenge the law and argue its constitutionality
Hear firsthand accounts how staff faced threats, vandalism and lost revenue as it continued the battle even after other prominent news organizations dropped out
Revisit the newsroom atmosphere and discover how these experiences shaped students' lives after graduation
FreeConferenceCall is an online meeting service designed for screen sharing, web conferencing, product demonstrations, webinars and more.