Audio Information
Online meeting ID:

lhmi_prayer_line
International Dial-in Numbers:
Host Information
Host Info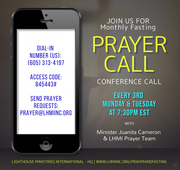 I am contributing to keep FreeConferenceCall.com Free!
Learn More
Monthly Prayer Call
at Lighthouse Ministries International - Maryland, USA
Send prayer requests: prayer@lhmiinc.org
Join us every 3rd Monday and Tuesday
7:30p.m. - 8:30p.m. EST
Join us every 3rd Friday: Prayer Vigil at 10PM - 1AM
This is Lighthouse and God is here!
FreeConferenceCall is an online meeting service designed for screen sharing, web conferencing, product demonstrations, webinars and more.