Audio Information
Online meeting ID:

koyil_org
International Dial-in Numbers:
Host Information
Host Info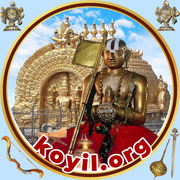 kOyil.org Santhai classes
Conducted by - Sri Sarathy Thothathri swamy
Timings: Monday to Friday - SrIvachana bhUshaNam - 12 Noon to 1.30PM IST and bhagavath vishayam - 7.45PM to 9.45PM IST (Indian Standard Time). Every Friday and Saturday - SrI bhagavath gIthA - santhai with thamizh/English meanings - 2PM to 3PM IST.
Venue: SrIperumbUthUr
Please join our Saturday/Sunday sathsangam (SrIvachana bhUshaNam English) at 12 noon to 1 PM IST. Full schedule available at http://pillai.koyil.org/index.php/2017/11/learners-series/ .