Audio Information
Online meeting ID:

gods_inputs_for_you
International Dial-in Numbers:
Host Information
Host Info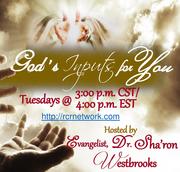 God's Inputs for You.
with Evangelist, Dr. Sha'ron K. Westbrooks
A dynamic speaker, prolific teacher, outstanding conference facilitator, professional writer, and insightful consultant who is anointed by God
Every Monday Evening @ 9 PM CST, 10 PM EST and 7 PM PST
She is a woman of profound compassion coupled with a God-given passion to minister healing to the brokenhearted, depressed, discouraged, and unsaved. Her messages transcend age, gender, socio-economic status, ethnicities, religious persuasions, political affiliations, and cultural restrictions that encourage and inspire people.