Audio Information
Online meeting ID:

calluntomeministry
International Dial-in Numbers:
Host Information
Host Info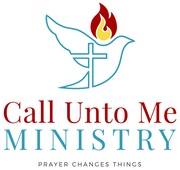 Call Unto Me Ministry
Dallas, Georgia
www.calluntomeministry.com
We believe! 
Call Unto Me Ministry, is a body of believers who worship our Creator Jesus Christ through prayer.  Jeremiah 33:3 says, "Call to me..." and Jeremiah 29:11 says, "I know the plans I have for you" so we as believers subject ourselves to His will and His way in keeping with His word.