Audio Information
Online meeting ID:

885-400-415
International Dial-in Numbers:
Host Information
Host Info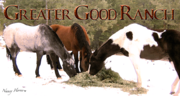 www.GreaterGoodRanch.com
Nancy Horne
P.O. Box 94
Kila, MT 59920
tel: 406-756-2327
nancyhorne@centurytel.net
Study Group for Anna Twinney - Reach Out To Horses - Animal Communication - The Journey Within.  Page 2 Meeting resources - StudyGroup 5-12-15 describes the purpose of this study group and the next step. View the links and listen to the audio files.