BuiltByKeith.com CreatorKeith
Audio Information
Online meeting ID:

166-841-408
International Dial-in Numbers:
Host Information
Host Info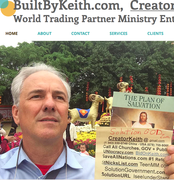 9120 Double Diamond Parkway
Reno, Nevada 89521 USA.
Cell: (63) 0917-335-4300 Philippines.
Wechat: BuiltByKeith   Skype: BuiltByKeith2
Cell: (852)9146-8620  Hong Kong
Info@TeenMM.com
Keith is AUTHOR of the worlds first Solution Series to solve most of our worlds major issues.  Contact PRESS, PUBLIC, Governments, Military, and all churches immediately as time has always been the most critical factor for the survival of our human race. 
 FreeConferenceCall is an online meeting service designed for screen sharing, web conferencing, product demonstrations, webinars and more.