Audio Information
Online meeting ID:

gracemercycc
International Dial-in Numbers:
Host Information
Host Info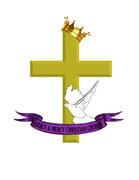 Grace & Mercy Christian Church
P.O. Box 19527
Lenexa, Kansas 66285-9527
tel: 913-706-9602
gandmchristian@aol.com
Grace & Mercy Christian Church (GMCC) is a non-denominational congregation located 12 miles south of Kansas City, MO in Lenexa, KS. Come experience CHURCH the way it was intended, where the only agenda is God's agenda.